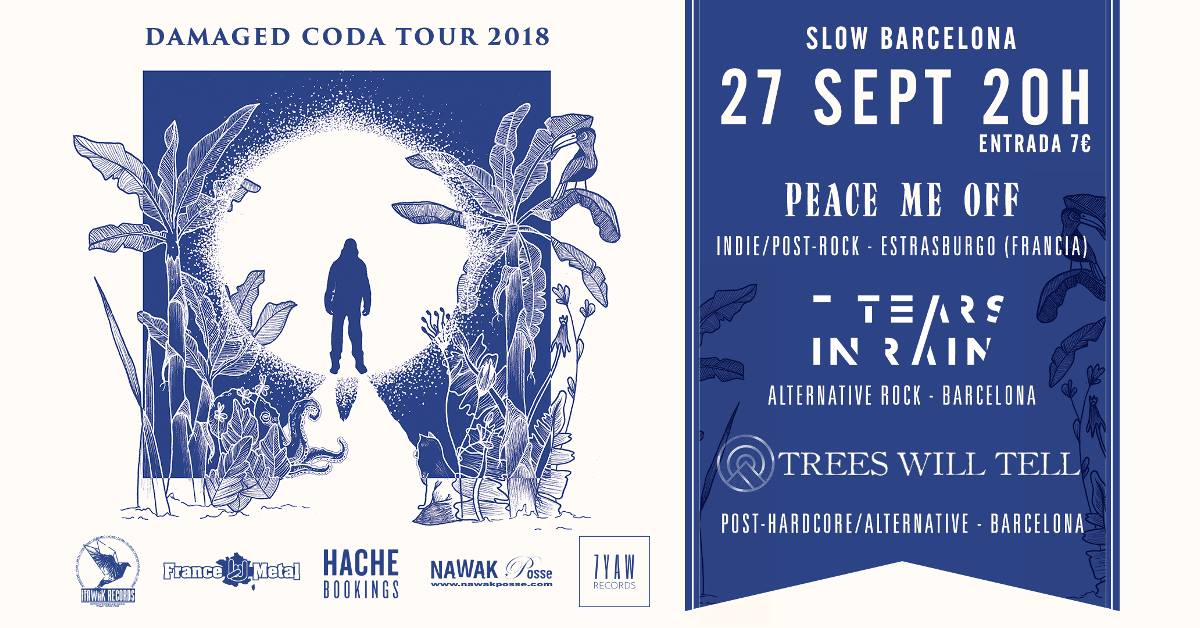 Peace Me Off + Trees Will Tell + Tears In Rain
Seven Years A Weak & Hache Booking presentes :
Peace Me Off (Fr)
Peace Me Off portrays an emotional journey and an edgy sensitivity, from the ode to nostalgia to the weird dreams that haunt you.
Born in 2015, a debut EP released the 22nd.june 2016, placed under a darkly folk-rock, that leads the band to french and neighbourgh countries scenes with more than 70 shows.
2018 marks a turning point for Peace Me Off : a new line-up impacting the grooves of the band : a new formula, a new alchemy allowing to shift towards a new style, at the crossroad of indie, grunge and post-rock. Their next EP will come out the 13th. September, following an european tour to stand for its release.
► Like : https://www.facebook.com/peacemeoff.indie/
► Escuchar : https://peacemeoff.bandcamp.com/ (soon)
► Label : https://www.facebook.com/sevenyearsaweak/
Trees Will Tell
Trees Will Tell vuelven a la Slow después de "L'appel du vide Tour" y del Sold out de su presentació en Barcelona.
► Like : https://www.facebook.com/treeswilltell/
► Escuchar : https://treeswilltell.bandcamp.com/
Tears In Rain
Fundado por Jim Vieco en 2010, Tears in Rain toma forma, sufriendo cambios en la alineación hasta encontrar la actual con Antonio León al Bajo y Diogo Santos a la batería. Su Ep debut titulado "Promises" masterizado por Tom Baker (Wolfmother, QOTSA, Foo Fighters) vió la luz a finales de 2012.
Lanzan su primer LP "Stop to Reach (Nasoni Records) en Marzo de 2015, que recibe muy buena acogida en la crítica especializada y posteriormente autoeditan Everything Under Control, un LivePerformance autoproducido que cuenta la historia de la banda entre grabaciones en directo. Ideometry vió la luz a finales de 2016, mezclado y masterizado en Seattle por Matt Bayles y Ed Brooks. Su cuarto álbum de estudio está previsto para finales de 2018. Entre las influencias que conforman su peculiar y adictiva música se encuentran el Grunge, el Post-Rock, Jazz, la Psicodelia, el Blues y el Progresivo.
► Like : https://www.facebook.com/tearsinraintrio/
► Escuchar : https://tearsinrain.bandcamp.com/
Entrada 7€.